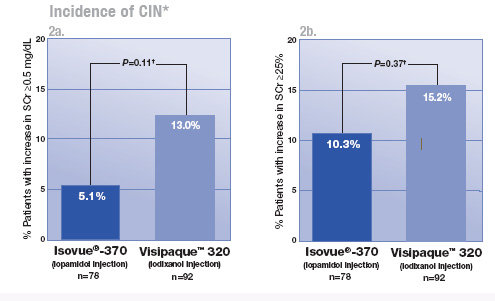 In 170 patients with chronic kidney disease and diabetes mellitus, the rate of absolute increase
in SCr ≥0.5 mg/dL was not significantly different after iopamidol-370 and iodixanol-320 (see Figure 2a)
The rates of SCr increases ≥25% were not significantly different (see Figure 2b)
* CIN defined as an absolute increase ≥0.5 mg/dL or a relative increase ≥ 25% in serum creatinine from baseline to 45-120 hours post contrast.
† P value is not statistically significant.


IMPORTANT SAFETY INFORMATION:

ISOVUE® (iopamidol injection) IS NOT FOR INTRATHECAL USE.
Iopamidol injection is available as
ISOVUE-M
®
for intrathecal administration.
Nonionic iodinated contrast media inhibit blood coagulation, in vitro, less than ionic contrast media. Clotting has been reported when blood remains in contact with syringes containing nonionic contrast media. Serious, rarely fatal, thromboembolic events causing myocardial infarction and stroke have been reported during angiographic procedures with both ionic and nonionic contrast media. Therefore, meticulous intravascular administration technique is necessary, particularly during angiographic procedures, to minimize thromboembolic events.
Caution must be exercised in patients with severely impaired renal function, those with combined renal and hepatic disease, or anuria, particularly when larger or repeat doses are administered. Radiopaque diagnostic contrast agents are potentially hazardous in patients with multiple myeloma or other paraproteinemia, particularly in those with therapeutically resistant anuria. Caution should be exercised in hydrating patients with underlying conditions that may be worsened by fluid overload, such as congestive heart failure. Diabetic nephropathy may predispose to acute renal impairment following intravascular contrast media administration. Acute renal impairment following contrast media administration may precipitate lactic acidosis in patients who are taking biguanides. Preparatory dehydration is dangerous and may contribute to acute renal failure in patients with advanced vascular disease, diabetic patients, and in susceptible nondiabetic patients (often elderly with preexisting renal disease). Patients should be well hydrated prior to and following iopamidol administration.
The possibility of a reaction, including serious, life-threatening, fatal, anaphylactoid or cardiovascular reactions, should always be considered. Patients at increased risk include those with a history of a previous reaction to a contrast medium, patients with a known sensitivity to iodine per se, and patients with a known clinical hypersensitivity (bronchial asthma, hay fever, and food allergies).
Click here for Additional Safety Information
Diabetic and Chronic Kidney Disease Subgroup
Visipaque is a trademark of GE Healthcare.

Click here for full prescribing information.

You are encouraged to report negative side effects of prescription drugs to the FDA.
Visit www.fda.gov/medwatch, or call 1-800-FDA-1088
.